International Residence Hall – Dollywood Project of Distinction 
2022
Developed and constructed during a global pandemic where relationships were harder than ever to foster, Holtz Builders, Inc. and their construction team showed grit and unwavering determination to support the community of Pigeon Forge, TN. Often referred to as the "Gateway to the Great Smoky Mountain National Park" lies Sevier County, Tennessee. Sevierville, Pigeon Forge, and Gatlinburg are home to over 98,000 residents and almost 2,900 businesses. With over 14.1 million annual visitors to the National Park, Sevier County is a natural tourist destination with a booming economy. 
Recording over 4,000 employees, local theme park Dollywood stands alone as the largest employer in Sevier County and the 10th largest employer in Eastern Tennessee.  While the majority of theme park employees live locally, Dollywood collaborates with International-Student Cultural Exchange Visa programs to host men and women from across the globe. In years past, students have been somewhat on their own to secure housing for their time in the States. This left many students far from work and without reliable transportation. IRH Pigeon Forge, LLC and Dollywood partnered up to provide world class, on property living for these students, that provides a safe and affordable place they could call a "home away from home." 
Holtz Builders concentrated on the timely distribution and availability of information to our project team. In preparation for this project and all to follow, our executive team brought on Procore as HBI's official Construction Management Program. Procore streamlined many of our back-office processes, as well as our means and methods of communication to the construction team. We utilized Procore tools such as Project Directory, Submittals, RFI's, Schedule, Daily Logs, Drawings, and Punch List. Subcontractors were able to get live status updates on their open items, as well as access many other tools to assist with completion of their scope of work. Procore was a vital aspect of our teams' success and ensured documentation, distribution, and follow up in a timely manner.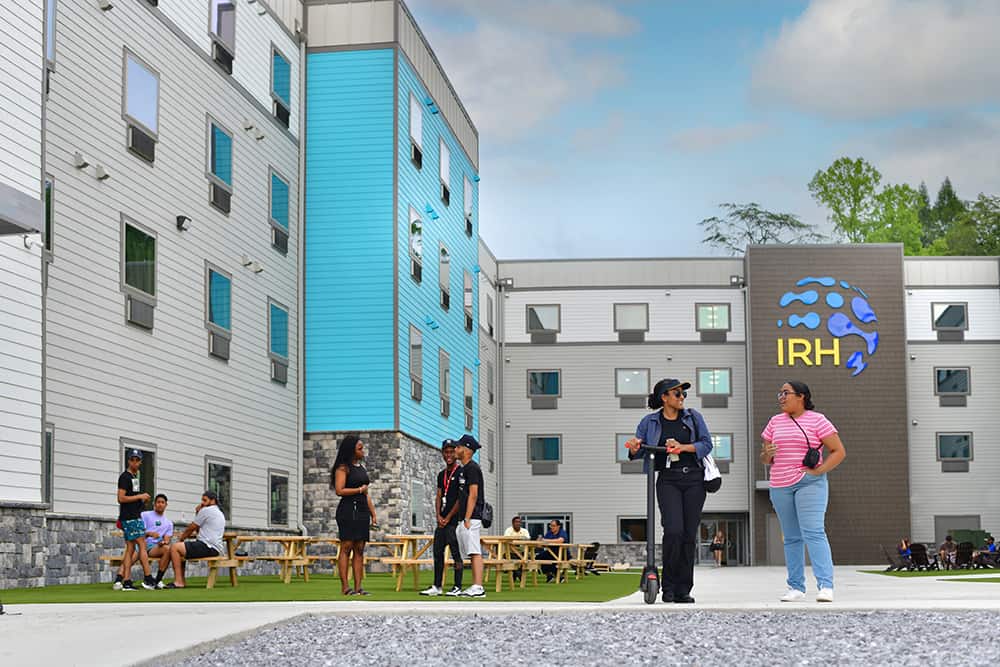 Nestled in the beautiful Smoky Mountains on the Dollywood Resort property, Holtz Builders, Inc worked in conjunction with the design team, Owners, building operators, and trusted subcontractors to develop a safe, efficient, and effective 141,612 square foot U-shaped building. In total, we had over 35 people across eight organizations involved in the initial design and development of this project. After a two-month permitting delay, the Civil Engineers at GEC were actively involved in the project from start to finish as we worked through ongoing civil design developments. The Architects and Structural Engineers at MBI Companies worked diligently to meet the owner's unique design requests, while also utilizing value-engineering options to optimize installation durations. 
IRH Dollywood provided a ground level retail and office space for Dollywood and 756 student-housing beds across three residential floors. Each floor consisted of 65 units, approximately 324 square feet of living space with 2 sets of bunk beds to accommodate up to 4 people per room. Each floor also included two handicap accessible rooms and one executive suite. Each resident room includes its own heating/air conditioning system, separate shower and toilet areas, a microwave, kitchen table, full-size refrigerator/freezer, countertop, and individual large, secure wardrobe space.  Over 17 semi loads of bunk beds and wardrobes were delivered to the jobsite. Each floor consisted of a common area, which included a gaming room and ping-pong table, a shared kitchen with 3 ranges and 5 sinks, two public bathrooms and a laundry room with 6 washers and dryers. This space allows for creating meaningful, shared food experiences by connecting people from different backgrounds and cultures through social gatherings and entertainment. This much needed seasonal housing for US DOS cultural exchange students is occupied by many countries such as Jamaica, Ukraine, Russia, and Thailand.
In coordination with subcontractors and their vendors, we reviewed each value engineering and timesaving opportunity along the way. Our MEP subcontractors worked closely with the Engineers and vendors to identify and modify areas of efficiency improvements and spec items in line with material availability.  Due to Covid-19, like so many other projects, delays with materials was a struggle. Trusses and roofing materials had a two-month lead-time and electrical components had a five-month lead-time. Holtz Builders strived to keep the progress moving forward despite material setbacks. Due to the mountainous topography, proximity to the theme park, limited on-site staging space, site conditions due to rain, and a tight schedule, many subcontractors were compelled to prep materials .5 miles off-site. For example, the lumber was stored off-site until needed. These constraints placed even further importance on accurate and timely communication between Holtz Builders, subcontractors, and the park operations team to ensure safety for all involved.