Mt Olympus Project of Distinction ABC Award
2022
The Laskaris family, known for their innovative spirit, unique design features, and forward-thinking vision, re-created the wheel once again. From designing the world's first multi-level go-kart tracks, to the first indoor theme park in the Wisconsin Dells area, and one of the largest wave pools in the world – Poseidon's Rage, the Laskaris's are always trying to add unique rides and attractions to their  Greek themed waterpark. This expansive park is located on over 200 acres that borders Lake Delton and Wisconsin Dells. It has continued to grow to offer more than 1600 rooms, 44 indoor and outdoor water slides, 4 interactive children's water play areas, 7 outdoor Go-Karts, 5 outdoor roller coasters – including the world's first underground roller coaster, 2 wave pools, and 3 Lazy Rivers. 
After years of planning, Mt. Olympus' Indoor Water Park expansion is becoming a reality through a combined effort by General Contractor Holtz Builders Inc. and Architect Ramaker & Associates. The owners also directly contracted Whitewater to build the Slidewheel and Badger Pools to construct the activity and plunge pool, as well as the pumps and piping for the Slidewheel. Holtz Builders Inc. coordinated all the contractors on site, including all owner-supplied contractors.  This summer, Mt. Olympus added an additional 22,500 square feet of indoor space, including the first rotating water slide in the Western Hemisphere named Medusa's Slidewheel. Only two Slidewheels exist outside of the U.S., with one at Chimelong Water Park in Guangzhou, China and one currently under construction at Aquapark Reda in Reda, Poland. This unique rotating water wheel combines the movement of a Ferris wheel and the speed of a waterslide. It stands over 74 feet high and spans nearly 100 feet in width.  It entails 443 feet of water slides wrapped in an intricate tangle of tubes on a horizontal axis that allows the entire ride to rotate continuously 360 degrees. Every 30 seconds, four-person rafts are launched into the perpetually spinning Slidewheel where the riders oscillate back and forth as the wheel rotates with each corner of the star shape representing a "drop". Senses are heightened as you are propelled by gravity and momentum with speeds up to 25 mi/hr while experiencing intense G-forces alternating with weightlessness. In addition, artfully placed Aqua Lucent lights provide flashes of colorful bursts of light that illuminates the enclosed flumes, creating visual movement and suspense giving riders the opportunity to see what is ahead, and guests a sneak peek into the exciting ride that awaits them. After 96 seconds in the rotating flume, riders take one last serpentine slide path which adds another 390 feet before heading thrill seekers towards the 4,800 square foot "Vegas" style exit plunge pool. This slide has already won the IAAPA Impact Award, Brass Ring Award, THEA Award, and the WWA Leading Edge Award. It was named the "Best New Waterpark Ride" at the 2022 Golden Ticket Awards.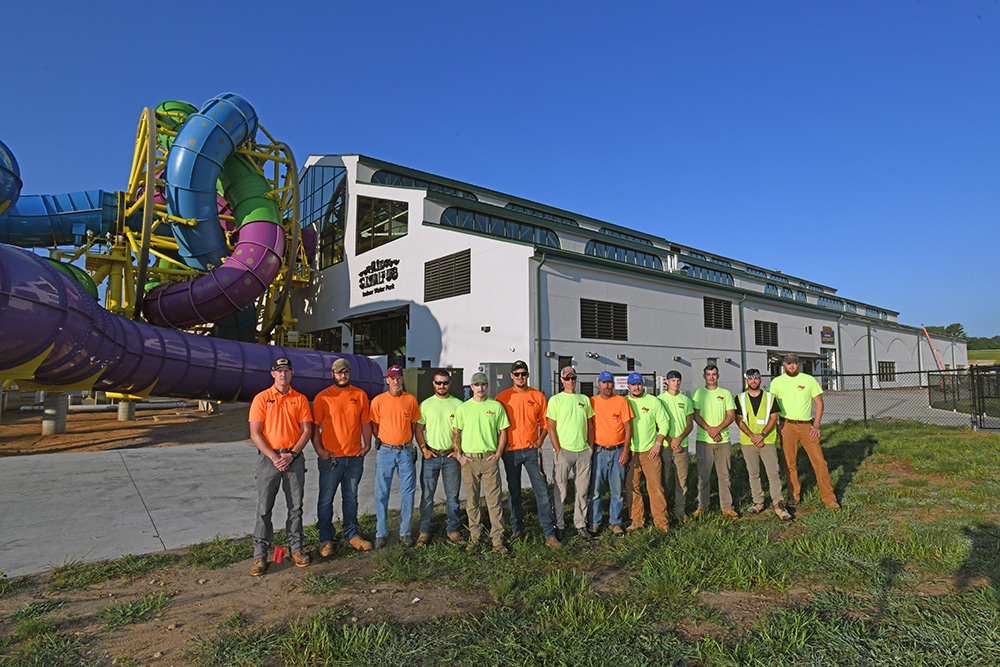 Since WhiteWater is based outside of the United States, we had to be creative in how materials were going to get from China, the Netherlands, and Germany to Wisconsin. Forty-eight shipping containers, each 52' long, required the use of other ports besides Los Angeles due to the long backlog. To keep this project moving forward and eliminate down time waiting for shipments to be processed, we coordinated the shipments to arrive in Canada  so we could receive the equipment sooner. The first shipment did not come until the end of December during the coldest temperatures. Assembling the slide tubes and steel for the tower was extremely difficult because sealers required a warm temperature to work properly. After a section was built, it was transported into a large shop to reach temperature. The sealers could then properly seal the tubes. The assembled piece was transported to the staging area so other sections could be brought in. 
At the beginning of the project, there was a lot of push back to get everyone on the same page. Different contractors' main goal was to complete their scope of work without looking at everyone else's or the big picture. To get everyone on the same page, we implemented a 6-week look ahead schedule, held daily foreman huddle meetings to coordinate all trade's activities for the day in a safe manner, established weekly progress meetings, and scheduled weekly project meetings that allowed us to stay three steps ahead of problems and build efficiently. Our project superintendent set high expectations for all contractors and held them accountable. On average, there were 60 individuals on site performing work. There was a lot of coordination regarding deliveries, staging plan, and active work. At one point, we had nine lifts in the interior portion of the building, along with two cranes and six lifts on the exterior of the building. Mt. Olympus also contracted other subcontractors and requested that we manage and coordinate the site. This was challenging because this subcontractor did not build this type of slide before, have only built on clear sites, and have completed the job on their terms. The daily huddle meetings were important to establish buy-in, encourage teamwork, maintain safety, ensure that details of every section were per spec and per plan, and adhere to the schedule.         
The construction site was extremely limited. With all components in place, there was only a 2" clearance from the right of way to the end of the Slidewheel. Building this project so close to the right of way caused an issue for safety. HBI held a pre-task planning meeting with all the subcontractors on site to ensure that everyone understood the tasks and safety measures prior to construction. For example, a crane erected pre-cast concrete planks. HBI created controlled access zones at locations around the crane and at the pre-cast planks location. The crane operator supplied the yearly inspection form and completed daily inspection forms. In addition, the erecting crew used retractable harnesses attached to pre-determined locations on each plank. After the pre-cast planks were installed, we pre-planned the use of a guardrail system with the concrete company to form up around the edges to keep it outside 1 ½" to allow the concrete company to continue to Install the second floor forms without the need of tying off. By pre-planning multiple tasks, we saved time and money, while keeping everyone safe.
Near the last six weeks of the duration of the project, our site superintendent held a poll schedule. This meeting took 2.5 hours to create. All contractors participated as we adjusted and re-adjusted the 6 week schedule to meet our turnover date of May 27, 2022. This was a team-oriented approach. Everyone had a voice in the matter and took ownership to meet the deadline.
Holtz Builders, Inc. was ecstatic to make history with Mt. Olympus Water and Theme Park by building the first rotating water slide in America. This thrilling, award-winning ride was a collective effort that faced many challenges in constructing something of this magnitude and innovative. Holtz Builders, Inc. was honored to assist Mt. Olympus provides an experience that millions of guests will enjoy for years to come.