Ryan Lake House Project of Distinction 
2022
Bill and Laurie Ryan asked their architect son, Jason, to design a stunning 3,427 square foot retirement home overlooking the scenic Wisconsin River in Merrimac, WI. They asked Holtz Builders to make their dream a reality within a tight timeline of just 4.5 months during a pandemic. Bill, also an architect, is known for developing the initial concept prototype design for the Great Wolf Lodge resort in Wisconsin Dells and has designed more than 45 other waterpark resort projects. He is no stranger to design and construction and was a valuable asset in helping to coordinate materials for his own dream home. The plans were well-written and the details were thought out, so changes were minimal.
With such a tight schedule, things didn't start as smoothly as we had hoped. The start of the construction schedule had to be delayed by two weeks due to a road ban. The short schedule did not allow time for manufactured wall panels, so we built them on site. The owner was able to extend his closing date to stay in his current home by two weeks, which allowed us to account for the delay in construction. Even though we were delayed by two weeks in getting the materials to the site, Holtz Builders took advantage of the extra time by ordering as many materials as possible to account for the long lead times. The garage doors, for example, were ordered a week before construction even started. Holtz Builders coordinated closely with the owner and the subcontractors. We worked directly with the owner in managing lead times and materials. The homeowner was able to store finished carpentry items and delivered what was needed for each day. This allowed for a very safe and clean site. All blueprints and materials were reviewed and approved by the owner, architect, and Holtz Builders to ensure all decisions were appropriate. To ensure quality craftsmanship, the Superintendent, Project Manager, and VP of Construction Operations for Holtz Builders conducted weekly walk-throughs.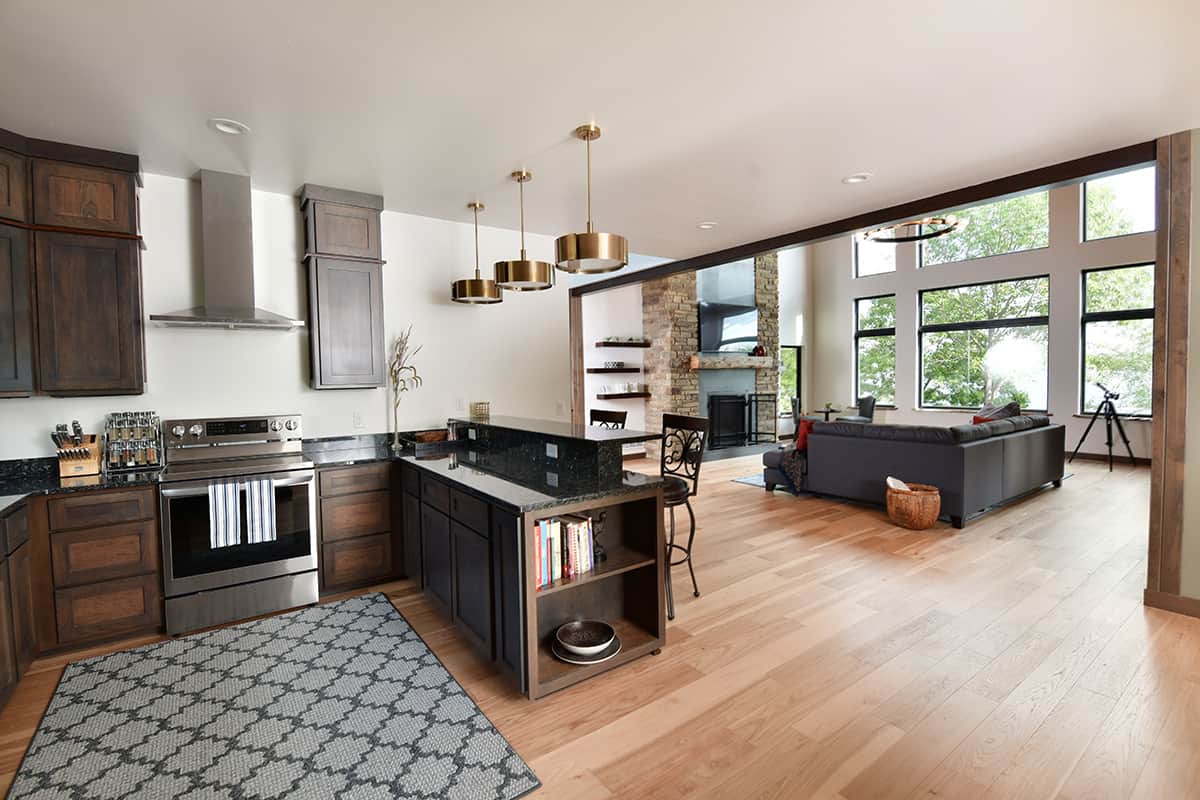 Market volatility and cost fluctuations were another challenge for this build. The long lead times meant subcontractors were waiting for materials on several occasions. Two windows were on backorder for several weeks, mortar for masonry, siding materials, and Trex decking caused delays in the schedule, in addition to rain delays. Because the market was so volatile, it was difficult to know if the materials were going to be within budget. Our Superintendent took the lead to keep supervision costs down to alleviate some of the increases in material. Without a doubt, the most costly postponement was the roof. Steel was delayed for five weeks. Holtz Builders kept the schedule moving forward without the roof completed. Hence, Holtz Builders had to take other avenues to keep the house weather-proof while continuing work. The walls were ready for paint before we had the steel panels for the roof. 
Being a shoreline property meant that we needed to comply with Department of Natural Resources regulations. Holtz Builders and the architect devised a grading and erosion control plan.  A temporary silt fence was constructed near the base of the property to capture any erosion to prevent any contamination into the river from the construction site. This was a challenge due to the steep slope, heavy equipment, and rainfall on exposed soil. The silt fence needed to be fixed or reinforced on several occasions. For example, while drilling the well, slurry eroded in some areas and piled up onto the silt fence. The drilling needed to stop so the fence could be repaired. Also, during excavation, Holtz Builders employees needed to repair the fence twice in one day and added a second fence a week later. The fence was closely monitored, especially after earthwork or rainfall. Because of the location of the site, logistics with deliveries, parking, and other construction activities had to be carefully planned out.
There were many impressive custom features for this contemporary new residential building. Multiple roofing materials, including EPDM rubber roofing with a combination of metal standing seam, makes this an extremely durable choice and will withstand our harsh Wisconsin winters. With an open floor plan, strong horizontal lines, oversized casement windows, a prominent fireplace, custom built Amish cabinetry, and a wide use of natural materials, this new home complements its environment and blends the outdoor space with the indoor space. Nearly 900 square feet of composite decking on two levels with a steel powder-coated metal railing with horizontal aircraft cable for added living space. The tongue and groove wood ceiling in the main great room harmonizes with the live edge window sills and the sliding barn door. The design depicts a relaxed, comfortable atmosphere to sit back and observe the wildlife on the river. Grand mahogany entrance and garage doors welcome friends and family.
Despite setbacks of delays caused by road bans, weather, and materials, Holtz Builders was able to construct this spectacular design-build retirement home overlooking the Wisconsin River in a mere 4.5 months, with 13% of the work being self-performed in rough carpentry, decking, and trim work. In working closely with the homeowner and the architect, the Holtz Builders team kept this project on schedule and on budget. The homeowners absolutely love their new home and treasure the daily reminder of their son's hard work and quality craftsmanship of Holtz Builders.