Staybridge Suites ABC Award 
2019
Staybridge Suites of Lake Delton is an approximately 104,500 square foot hotel with 122 suites, consisting of fourteen different suite layouts, including eight ADA compliant suites.  This hotel is conveniently located right of the Interstate 90/94 in Lake Delton with it being the area's newest all-suites accommodations within walking distance of numerous restaurants and entertainment in the Wisconsin Dells area.  Relax by the indoor pool, enjoy the outdoor amenities of grilling in the BBQ gazebo or playing basketball on their half court sport court.  Amenities include daily Breakfast Buffet, The Social, which is a den where guests can enjoy drinks while mingling with others, Business Center, 24-Hour Fitness Center, and on-site Laundry facility.  The owner chose to decorate the halls, rooms and common areas with a local photography artist, Joey Leute.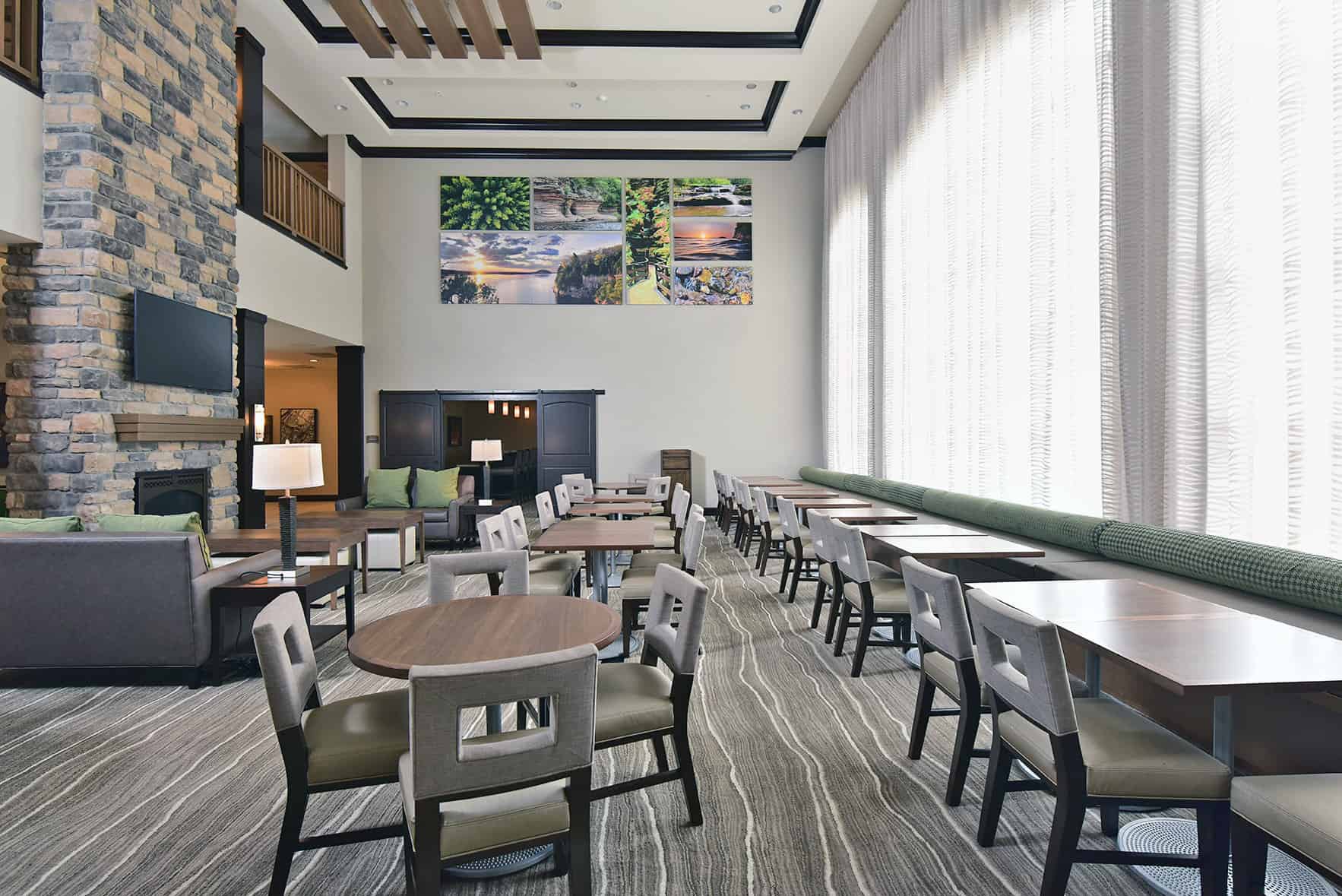 River Valley Architects, located in Eau Claire, WI, designed this modernly decorated hotel within the brand standards of IHG.  The project also included a team of Mechanical, Electrical and Plumbing Design Build contractors.  Construction of the Staybridge Suites hotel was a panelized wood frame project with the exterior façade made up of multiple colors of EIFS and cast stone masonry having aluminum framed windows.  Building includes an indoor pool and hot tub area, three masonry stairwells and two elevators.  This project also consisted of site work and utility work with the soils being unfavorable which required soils remediation.
Many of the materials for the project were from a company specifically selected by the hotel chain and shipped from overseas.  Prior planning with owners, engineers and architects was the key to having the entire team on the same page and making sure materials were delivered on time.  The tariff war also threatened the project's budget, but Holtz Builders was able to secure materials prior to tariffs and Chinese holidays.  
The construction team included new subcontractors and suppliers that had not previously worked with Holtz Builders.  Clear expectations, an expedited plan, product reviews, and approvals were essential to the success of the team.  There was a learning curve for some subcontractors when it came to meeting Holtz Builders' quality standards.  Some quality issues required a Holtz Builders crew to correct, and others required Holtz Builders to bring in additional subcontractors to keep the project on schedule.  Close collaboration with the subcontractors allowed the project to still be completed on time and under budget.  Using HBI's tracking and punch list process for each and every room in the hotel also helped Holtz Builders maintain quality control, along with weekly progress meetings that included the subcontractors, owners, and operators of the Hotel.