Woodland Reflections at Sundara Project of Distinction 
2022
Sundara Inn & Spa opened in 2003 and quickly drew national media attention for its role in defining wellness and relaxation in the Midwest. This eco-friendly destination is located on the outskirts of Lake Delton on 80-acres with breathtaking views of the tall pines. The spa portion of the property includes 26 treatment rooms, a salt therapy treatment room, and a nail salon. On the grounds, there are two outdoor pools heated year-round, a woodland meditation trail, an on-site hiking trail, an open-air dining terrace with a restaurant, and an adjoining 18-hole championship golf course. Signature spa amenities include a bathhouse with a five-step Purifying Bath Ritual with hot and cool pools, a spacious fitness studio, chef-prepared cuisine, tranquil spaces, and wellness activities.  Intimate by design, this adults-only spa resort consists of 44 serene suites, with the newest addition – Woodland Reflections- set apart from the main resort. 
Woodland Reflections at Sundara added two new four-plex luxury suites, each with their own private balcony and whirlpool, to match the existing buildings with a corridor that connected the new addition to the existing main building. The meticulously placed location of the new addition maximized the views and provided a sense of privacy. Each thoughtfully designed space provided cozy accommodations for each guest, complete with a designer-spa shower system with in-floor heat, an inviting fireplace, a private balcony, and a luxurious whirlpool tub. This 10,330 square-foot, single-story addition included a partial basement for the aquatic equipment in a mechanical room. With limited specifications information available for the existing building and plans that stated to match existing, the process of color and texture selection of materials was much more complicated. Before materials were ordered, manufacturing representatives for tile, grout, siding, doors, trim, and windows came to the job site with samples to match the products as skillfully and as accurately as one can. On a fast-moving project of less than six months, this affected the schedule by delaying the ordering process and long lead times for those materials.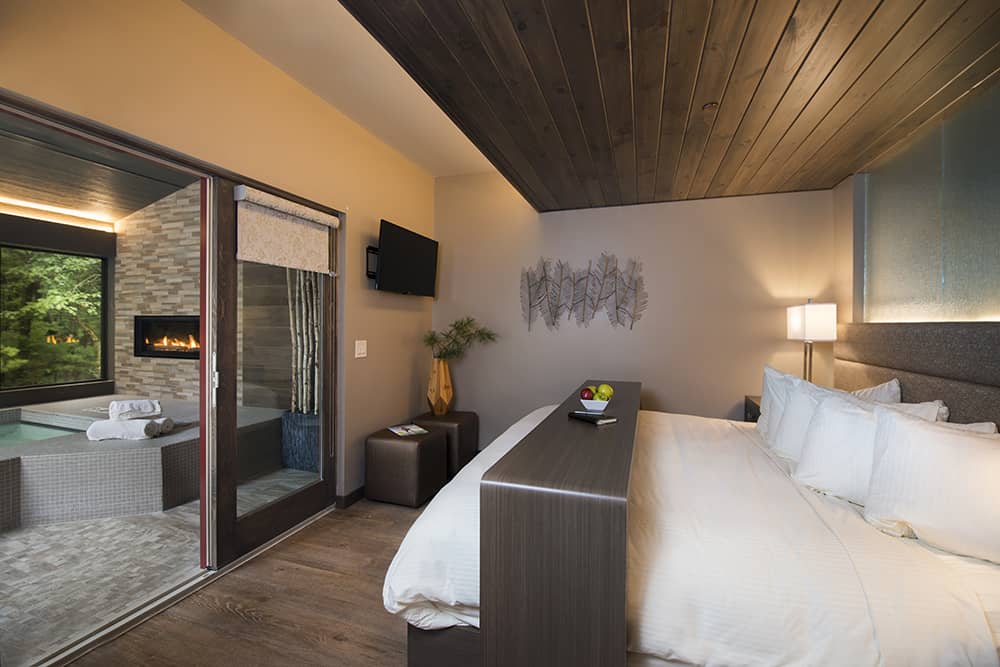 Pre-Task Planning and Quality Craftsmanship
To ensure quality before the project even began, Holtz Builders, Inc. built a mockup of the building to ensure that specifications were followed per manufacturer. This provided direction and content. Manufacturing representatives trained proper installation and verified proper technique of the exterior scopes for windows, doors, siding, soffit, fascia, caulking, flashing, and roofing. This valuable experience shortened the learning curve because our field crew was able to foresee problems and solve them before they happened on a large scale. It also set the standard for all work done on the project, which reduced punch list items.
Self-Performance
Holtz Builders, Inc. employees self-performed 31% of the work on this project. This allowed a savings in time and money, increased quality, and ensured safety. Due to a shortage of labor workers for concrete, Holtz Builders employees self-performed all the concrete footings and foundation, a task that we typically subcontract out. We also used in-house skilled labor and equipment to demo an existing building where the new building was attached, framed all the rough carpentry, and applied intricate details in finished carpentry. To keep with the high-end interior design, we constructed a tongue and groove wood-barreled ceiling, installed lavish décor, and fabricated a screened-in porch area for each unit. Working together year-round, the synergistic effect fosters transparent communication and a symbiotic approach with fewer oversights.
Coordinating Schedules Between Subcontractors
Every contractor, except the roofers, needed time to work on the large, private, custom-built whirlpool rooms. Neumann Pools needed all six months to complete their scope. With a shared common space that needed access by several contractors, it was essential to cooperate and coordinate schedules by breaking down the tasks to allocate the trades during each phase of the project. Balancing which tasks must happen sequentially and which tasks could be performed concurrently required open communication between the subcontractors. Teamwork and jobsite productivity increased because issues could be resolved quickly to keep the project on schedule.  
Unique Features
An electric fireplace in each unit, next to the whirlpool, enhanced the ambiance. Due to the harsh chemicals and moisture of the pool, a stainless steel shroud surrounded the fireplace. Rather than having it be masonry brickwork that will be costly to replace when the chlorine corrodes the metal, a unique design feature included using a stainless steel surround for easy replacement in the future. 
Another unique feature was a 700 square foot yoga deck, with horizontal cable rails, located between the new addition and the existing building. Using an exotic ipe deck board, this Brazilian walnut is twice as dense as most woods and up to five times harder making it naturally resistant to rot, abrasion, weather, and insects. Despite the wood being held up in port, we were able to get it in time to have it installed and this beautiful, exotic, and durable hardwood deck offered another space to unwind through wellness classes.
Sundara Inn & Resort is recognized as one of the first spas in the Midwest and has received a multitude of awards. This stunning expansion will provide a sanctuary-like retreat to the many guests that will visit in the years to come. The Holtz Builders construction team was very honored to be involved in the expansion of this world class destination.