Wilderness Take Flight Theater Project of Distinction 
2020
In 1995, the Wilderness Hotel and Golf Resort opened for business along U.S. Highway 12 (Wisconsin Dells Parkway) with a 35,000-square-foot water park named Fort Wilderness. In 1999, the hotel added its second indoor waterpark, Klondike Kavern, and an additional sixty guest rooms. Fast forward to 2020, the facility has over 30 different lodging options from which to choose. The resort offers comfortable, north-woods themed guest rooms at Wilderness Hotel & Golf Resort as well as Glacier Canyon Lodge. In addition, for those looking for a more spacious option, Glacier Canyon Lodge and Wilderness on the Lake have luxurious 2- and 3-bedroom condominium units that sleep up to 16. The resort also has a wide variety of Vacation Villas, Frontier Condos as well as 3-, 4- and 5-bedroom cabins which can sleep up to 20 guests.
The Wilderness came to Holtz Builders, Inc. with a vision of building what would be a one-of-a-kind amusement ride. This is the story of Take Flight Theater at the Wilderness Resort. The theater is a five-story steel and cold form framing building for a 60 seat interactive ride built onto the existing Wilderness Resort which HBI was also remodeling at the same time. The total building area equals approximately 24,000 square feet. Talk about a unique project! 
Holtz Builders knows that planning is the key to a successful project. So, our team interviewed many contractors and vendors and selected only those who would exceed expectations. We knew that the steel was going to be one of the first hurdles. We contracted Endres Manufacturing early on, and in turn, they were able to get a steel mill order in before the plans were completed–this ensured the steel would be ready when the plans were completed. We also brought in Capital Steel Erectors during the detailing stage to assist with items that would speed up formation when steel was at the site.  Next came finding a concrete company that would have the manpower and determination to complete this project no matter what it took. Lewis Construction was our concrete company.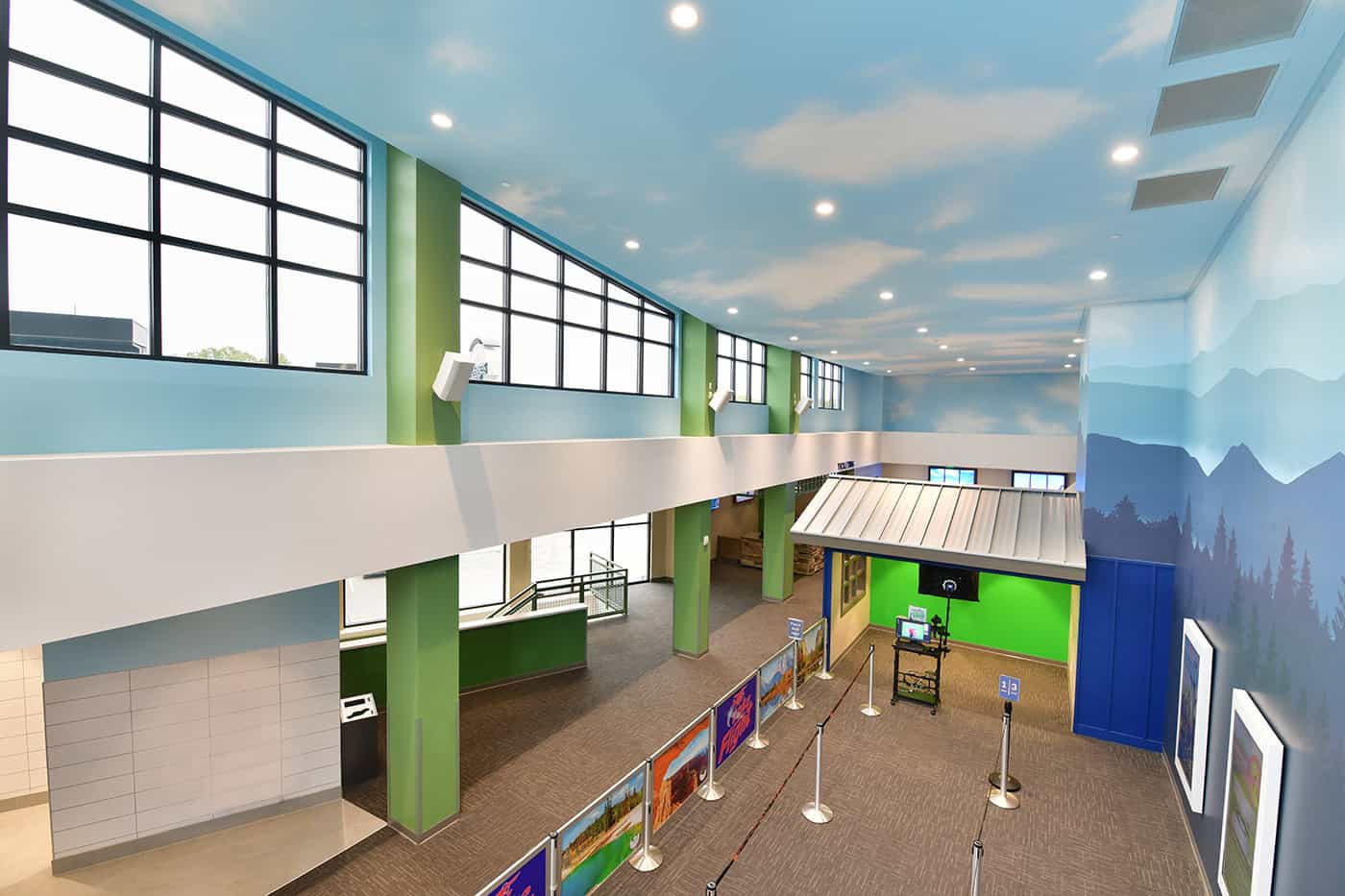 Next was the cold form framing contractor. We realized early on that we needed to have pre-fabricated walls due to the shortened schedule. So, our team contacted Wall-Tech. Wall-Tech was able to set the largest pre-fabricated wall panel they have ever set at 56'. We met with Rural Masonry who planned to have 8 of Hydro Mobile scaffolding on the project at a single time for the two stairway shafts and an elevator. HBI would utilize a crane to load both towers to ensure the masons could work on them simultaneously. In two and half weeks both towers, over 60' tall, were completed. 
HBI also had to pre order the Trane units before an HVAC contractor was selected in order to make sure that we had the unit's onsite when needed. Trane had a 16 week lead time on the Rooftop units. Bid Pack #03 came out while the project was already underway. This had all the electrical, plumbing, HVAC and architecture details we needed to complete the project. At this time, our team went back to our database of contractors, and we brought on United Electric, Harker Heating & Cooling and Zimmerman Plumbing. We started looking at all of the different finishes that went into this building. A cabin on the second floor, airplane lights, TV's framed to look like windows, a sound system that reminds people of being in an airport. The three waiting areas have actual airplane seats for before you take flight. Near the ticket booth on the second floor, there is an interactive airplane game for children, and a kids club on the first floor that has items for children of all ages to enjoy. There were many details to put into place with such a short schedule.   
To overcome the various items which were now written plans, HBI utilized a Lean pull planning schedule for this project. Pull scheduling focuses on the end goal and identifies each predecessor activity in the proper sequence of events. This helps to identify any trade or activity handoffs from the back end; allowing everyone on the project to know when and what needs to get done in order to keep the project rolling. This was done many times throughout the project to ensure that the even flow of work never stopped– especially with the large number of people on this project who had different working hours. It may seem like a lot of extra effort, yet when you get every trade and vendor in the same room, work is accomplished. During these meetings we used a lot of technology that helped us overcome obstacles before they became an issue which would slow our progress down. Our team used BlueBeam studio where we could share the changes instantly with our team members, and we used REVIT, CAD & BIM. It was great to see all of our awesome team members working collaboratively to reach the end goal. 
Things seem to be going great, concrete foundations were in, steel was being erected at the same time the pre-fabricated wall panels were being installed. We began preparing five floors of concrete pours on steel decking. This had its own challenges since it was now the middle of winter, and the building was not 100% enclosed. We needed to get the concrete poured. So, with ceilings as high as 65 feet, we knew that heating was not going to be easy, but we were up for the challenge. Our team was able to get a design for temporary heating and dehumidification on this project before winter was even a thought. Inspections completed and a plan in place, all that was left to do was execute the plan. The concrete pours on all floors went smoothly with no issues. It looked like all of the pre planning and schedules were paying off. Then COVID-19 hit and many things changed. We could not get our STC rated doors and frames since they were made in California. There was a limited number of people allowed to be on the project. We could not get the theater company (SimEx) on site since they were based out of Canada and the borders were shut down. Many items changed for us on that day just like every other contractor. In person meetings went to ZOOM, daily foreman huddles became small groups of people with face masks and social distancing. Yet, through all of this our team persevered. 
Next, we began looking at ways we could complete the theater install without the theater company coming to the site. Numerous calls and zoom meetings were held to understand the finer details on how to install something no one has ever done before in America. We reached out to supporting contractors, many were the same that we used on the building portion to erect, finish and complete the MEP's for this project. Our team now had a plan. Capital Steel installed the ride platforms on all three levels, square, plumb and level within a tolerance of one millimeter on each ride section. Then came the misting and scent bars located on each ride platform. We utilized our electrician, plumber and steel erector. For the high-speed overhead doors that open in less than one second, we brought in a new contractor for this who is a certified Rytek door company out of Green Bay. These needed to be programmed specifically to the movie start time for a seamless transition. There were a lot of items that needed to be tied to one another in order to have the ultimate guest experience. High-speed doors, seats, scent and wind all needed to be done at perfect timing otherwise this was not going to work. The next step was to install multiple high speed cameras. With help from the steel erectors, our HBI team was able to get it installed. 
Then came the biggest task of them all, constructing the largest screen ever built in America. Again, we put in place the experts in the field. Wall-Tech, the cold form framing contractor, brought in their crew. We began bringing pieces into the basement and setting them one at a time until the screen was built. Then we needed to carefully place the fiberglass onto the framing to create the screen.  
It was all working out. Our team was getting it done just in time, because now SimEx was able to travel to the USA. When they arrived they were so pleased with the work that our team did. They had to recheck everything that we installed while they were in Canada. Everything was done correctly. They were very happy to know that we were able to do this with their team remotely and have everything come out as good as it did.  HBI continued to support SimEx with our team of experts and finish the items they were specialized in but could not come and construct. Everything was going as best it could.
While the screen was being built we also had the rest of the building to complete. Finishes were being installed on all five floors, painters were doing their final touch ups, and casework and solid surface was taking place. Cleaners were washing exterior windows then moving to the interior, and landscapers were completing their final touches on this project. All we needed was state approval on the building and state approval for the amusement ride. We met with the inspectors and everything passed on the first time. 
One of the best things of being in construction is watching what started out as a vision become a reality. It is one of the most gratifying things we as contractors get to do. This project is extremely unique, because not only it is the only one in the USA, but also COVID presented us with many challenges. HBI, as a team, were able to get the project done on time. The attraction will be enjoyed here in Wisconsin Dells for millions that come to this great city in Wisconsin. We are so proud to welcome everyone to the newest, one of a kind Take Flight Theater at the Wilderness Resorts.